The JIzznit Stencil Fluid
The stencil can be the basis of a good tattoo. If your stencil disappears while you are working, it can cost you nerves. For a bombproof result, we recommend one of our most famous tattoo products, the vegan THE JIZZnIT.
It puts your stencil onto the skin and impregnates the stenciled layer at the same time. So liquid beads off without attacking the stencil. A waxy micro-layer protects the template from the friction caused by cleaning. We also recommend that you work from the bottom up. This protects both your stencil and your nerves.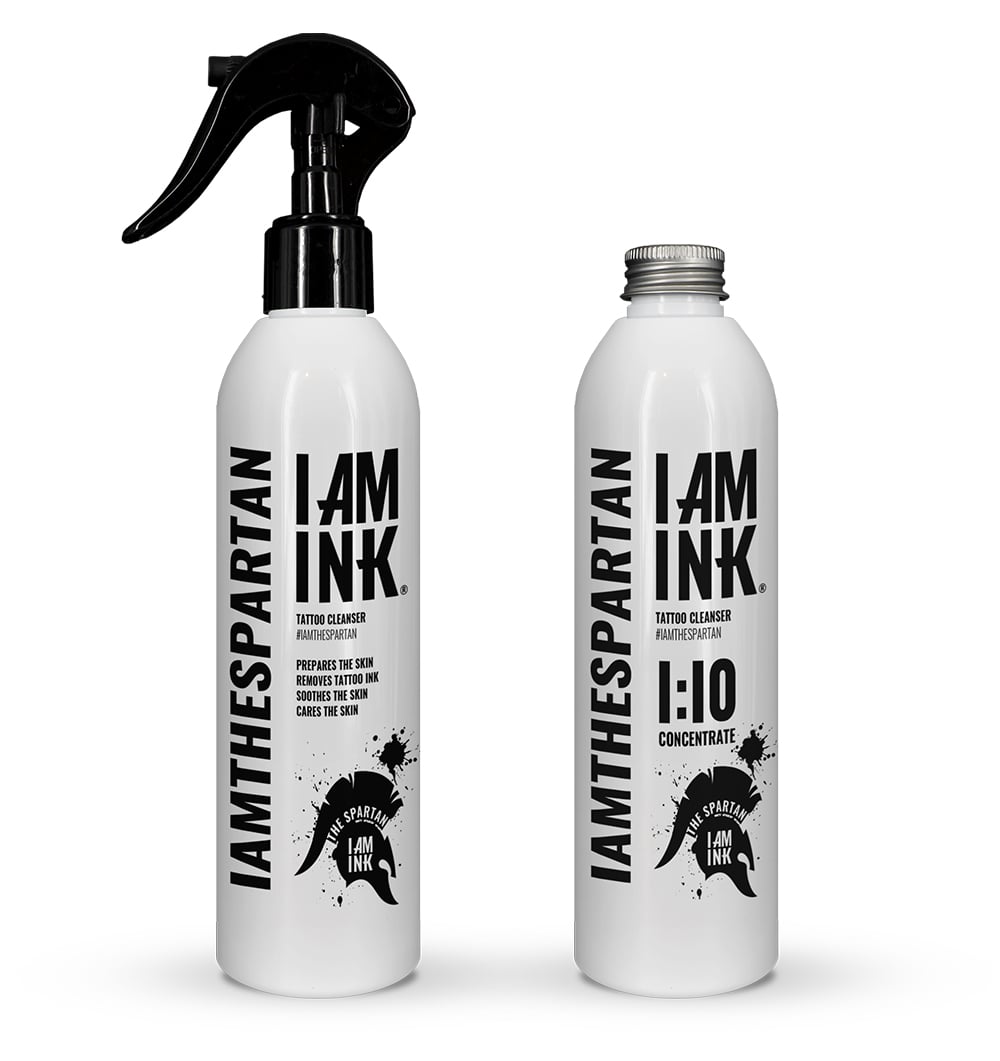 The Spartan Tattoo Cleanser
The IAMINK® Spartan is our answer to the question of the perfect tattoo soap.
Our Spartan absorbs excess ink extremely well and binds it so that it can be removed by the pulp great. The glue-like consistency of the soap thereby protects both the stencil from smudging and the customer from unnecessary pain due to friction.
The tattoo product IAMINK® Witch Hazel can be used as a thinner and as a tattoo finish after the tattoo is finished.
The solution is based on an organic distillate of witch hazel and is combined with selected ingredients. This composition ensures that the natural moisturizing factors of the skin are positively affected.
The skin, stressed and severely damaged by tattooing, can thus be restored to its original state.
This shading solution is ideal for making your own gray wash tones. Dilute your blacks according to your needs and preferences with this perfect addition to your IAMINK® tattoo inks.
The composition of the raw materials used completely coat and stabilize the pigment surfaces. This effect causes the tattoo inks to be more easily absorbed by the skin which makes them easily processable.
Liquid Swords by IAMINK® is a degreasing hygiene spray for preparation of the skin before tattooing. The powerful formula is easy to the skin and does not harm its natural protective barrier.
THE SPRizZ SUPERFOAM INK-AWAY is your #1 tattoo product of choice for removing excess ink and Vaseline from the skin. The slippery consistency is gentle on the client's tattooed skin while protecting the stencil during each cleaning process. The "Freshness Trio" (Witch Hazel, Menthol and Camphor) strengthens stressed skin and provides a pleasant cooling sensation.
Ease Grease by the3pylons
Thanks to the butter like constistency of the balm, small amounts can be used for large areas of the skin. The skin friendly formula containing soothing almond oil and evening primrose oil protects and nourishes the skin before, during and after tattooing.
Check out our REACH compliant and high quality tattoo inks in detail.