Our entire range of IAMINK® tattoo ink is all REACH compliant. But they have even more in common!
In the following we present you our IAMINK® tattoo ink in detail. If you have questions about the specific inks and their use, we are happy to help you. The main features are:
MADE WITH PASSION IN AUSTRIA
MADE WITH PASSION IN AUSTRIA
#0 IAMINK® White Rutile Paste
IAMINK® White Rutile Paste owes its name to the highest quality of all titanium dioxide modifications. Rutile is the whitest and most visually opaque pigment of its kind, a highlight in itself.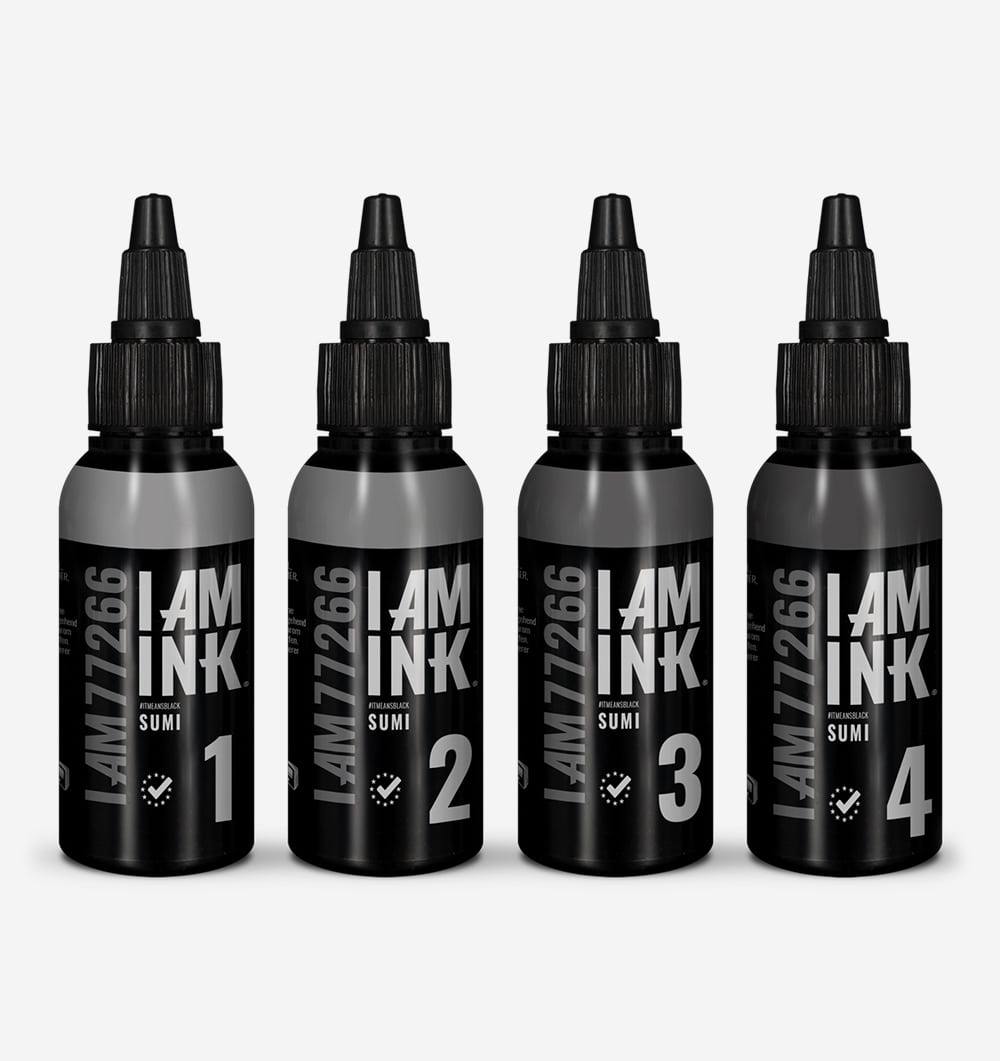 Sumi 1 to 4 - the all-rounders are based on the black standard of #6 True Pigment Black tattoo ink. The constant gray shades are suitable for both fillings and linings. Thanks to the well thought-out ratio of the gradations, they form a clear and sensible portfolio of the highest-quality gray tones. This make the laborious reconstruction of your own mixes superfluous.
Based on IAMINK® #6 True Pigment Black, BLK LNR forms a perfectly matched formulation for linings. The enormous color intensity of the base formulation enables a pigment-reduced version that reduces the risk of blowouts. This undesirable effect is caused by stitching too deeply, incorrect dipping angles and unfavorable skin tissue. And last but not least by tattoo ink that flow too quickly or are overpigmented. We cannot prevent blowouts, but by reducing pigment volume, we can minimize one of four risk factors without losing color strength.
#6 IAMINK® True Pigment Black
The foundation of the FIRST GENERATION tattoo ink. A high-performance pigment - the only true black with Color Index 77266 - is used to produce IAMINK® #6 True Pigment Black, giving this black an intensity that cannot be surpassed so quickly. This extreme color strength enables the pigment to create such a balanced formula that True Pigment Black skillfully combines the deepest black with minimal impurities in one color.
Together with renowned tattoo artists from the field of lettering, IAMINK® has developed an all-rounder black that is perfectly suited for this method of working for both lines and areas. Lines go in easy, they stay where they are - areas are filled wonderfully evenly. And specially mixed Greywash looks healed softer than the hands of a bank executive. Healed gives the impression that the ink darkens afterwards.
Silver 1-3 IAMINK® Silver Washes
The Silverwashes from IAMINK® offers you a prefabricated adaptation of Greywash gradations as Silverwash. Stirred by machine, the black/white blends achieve the best and most homogeneous blends, which are very easy to process and deliver optimal results.
Our IAMINK® Tattoo Products
We stand for real products from real problem solvers. Check out our tattoo products here.